BCS empowers our customers to say with confidence,
"I am ready to face the challenges of the unexpected."
About Business Continuity Services, Inc
Established in 1999, BCS provides strategic and operational expertise in managing risk and increasing the resilience of organizations globally.
OUR COMMITMENT
We will listen to you. We will be responsive to you needs. We will be service-oriented.
We will be creative in helping your organization reduce is risk and increase its resilience.

Our results become our reputation- and so it is a matter of personal pride that we do everything we can to increase the resilience of your organization.

Clients
Our focus is on high quality professional services with an emphasis on knowledge transfer and learning.

Countries
International experience helps us to meet the needs of different cultures as well as different industries.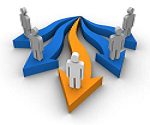 Industries
Experience in every industry sector and size from multi-national to small businesses.

Consulting Team
BCS is committed to long-term relationships by being responsive, service-oriented, and creative in meeting your needs.
Partnerships

BCS brings decades of experience in international consulting expertise along with the opportunity to have your personnel trained by some of the best instructors in the resiliency profession. BCS President Jim Nelson is also Founder and serves as Board Chair of The International Consortium for Organizational Resilience (ICOR-www.Build-Resilience.org).
Testimonials
Finance Industry

"The services rendered resulted in a quality product and met our expectations. The knowledge and expertise of the team was relevant and valuable to us as we developed our programs."

Insurance Industry

"Jim's organization skills, his thorough grasp of the significant issues, and his frank and uncluttered communication style allowed decision makers to understand and act with confidence."

Non-Profit

"Jim brought extensive knowledge to the project which was of keen interest in the wake of Hurricane Katrina."
Communications Industry

"BCS professionals were the finest collaborators with whom our team has ever worked. Their expertise and actions provide their clients with excellent outcomes and superior customer service."

Scientific Laboratory

"BCS consultants bring technical expertise and leadership skills along with a dedication to excellence that goes beyond expectations."

Energy Industry

"We have worked with and used the services of Business Continuity Services, Inc. (BCS) in the assessment and development of our Continuity Programs. We have found the services and the staff of high quality with a focus on customer service."
Pharmaceutical Industry

"The expertise of the staff has been of great value as we have developed our programs. The follow up work conducted by the team has proven to be most valuable in achieving our business-continuity goals."

Manufacturing Industry

"We highly recommend BCS for any of your professional requirements related to IT and data center program needs."

University / Education Industry

"We chose BCS because of the reputation of their consultants. They are forward thinkers having applied their experiences to develop high quality learning modules for the profession. They combine exceptional knowledge of the profession with an ability to communicate that knowledge to others."